Black LED Dancefloor Hire Gloucestershire
Hire our stunning black LED dancefloor to give your event that "wow" factor. 
Black

LED Dancefloor Hire Gloucestershire
DDWES have been providing Black LED Dancefloor Hire in Gloucestershire since 2013. This has fast become our most popular choice of mobile dancefloors. Commonly known as a "starlight dancefloor", "light up dancefloor" or even "starry twinkly dancefloor". 
The black LED dancefloor is ideal for a variety of events such as weddings and product launches, proms and award nights. If you feel a white LED dancefloor is more suitable for your needs then you can find this here.
We can also provide a matching starcloth backdrop to really set off the dancefloor look. This photo was taken at a wedding at the fantastic Kingscote Barn.
We've been providing Black LED Dancefloor Hire in Gloucestershire for many years now and always pride ourselves on a promopt and friendly installation service.
Various sizes available 
Our dancefloor system comes in 2ft sections which allows us to be creative with the size of the dancefloors that we supply. If you require a small square dancefloor, or a odd shaped floor space then we can provide a dancefloor to suit your requirements.
We take pride in our work which means that the floor will be cleaned, buffed and shined before leaving the warehouse. This ensures that we only lay down pristine black led dancefloors, that will really pop when it's time to do some dancing. 
Black LED Dancefloors are hugely popular at prom events as well as corporate events such as award nights, product launches and venue openings.
We have had the pleasure of working at many Gloucestershire event venues so if you're not sure on size required then please do get in touch. Chances are we have already worked at your venue! Image taken from one of our recent weddings at Wyck Hill House Hotel. 
Additional services
It's not just Black LED Dancefloors in that we can provide here at DDWES. We also offer a wide range of additional services which would work well alongside a black led dancefloor.
Popular choices of services to be booked alongside our Black LED dancefloor include black LED starcloths, DJs, LED uplighting and staging. You can find our product list here.
If you would like to discuss your requirements for dancefloor hire or rental in Gloucestershire, then please do get in touch with us using the enquiry form at the bottom.
Areas Covered
We also cover surrounding areas to Gloucestershire for dancefloor hire. These include Herefordshire, Bristol, South Wales, Worcestershire, Oxfordshire, Wiltshire, Hampshire, Northamptonshire and Berkshire. Delivery charges may apply depending on the size of the order.
If you're interested in finding out some more information about our Black LED dancefloor hire Gloucestershire service then please fill in the enquiry form. We also offer other types of mobile and portable dancefloor hires in and around the Cotswolds.
We will try and reply within 24 hours however this may be longer over busy periods such as weekends. If you can include venue, date and some information about your event it'll allow us to reply with an accurate quote.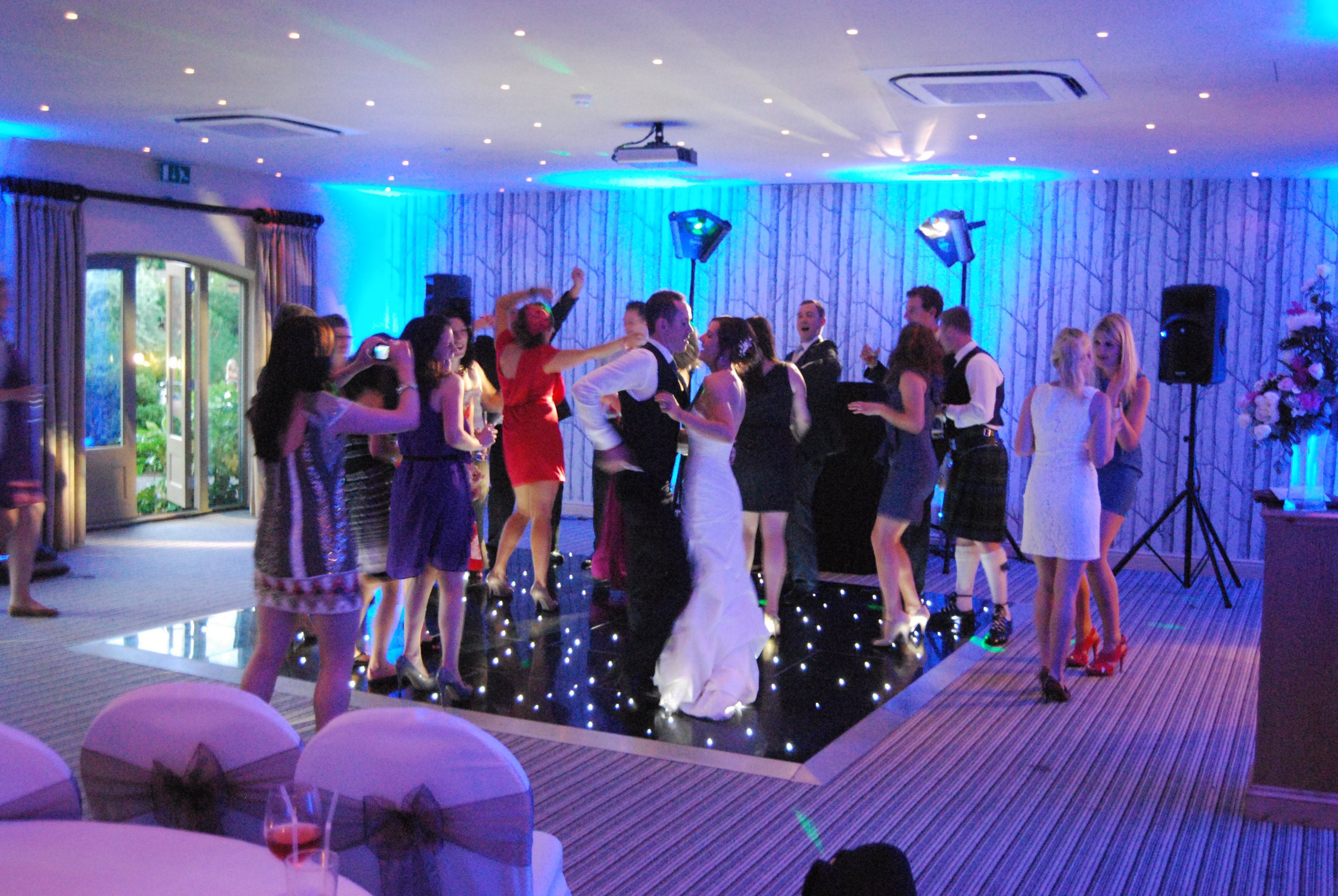 Installation times for our dancefloors will vary on a number of factors, these mainly being ease of access and size of the floor being installed.
We like to carry out a site visit if possible prior to the event to avoid any "nasty surprises" on the day. We have a range of tools and equipment to help us navigate most issues. If you do have stairs only access then please do let us know.
We can offer a wide range of sizes for our black led dancefloors. We usually allocate 45 minutes for a 12 x 12 foot floor to be laid.
Sound good so far?
Book an appointment today to find out more information about our Black LED Dancefloor Hire For Gloucestershire & Surrounding areas.