LED Furniture Hire
Wide range of wireless furniture items such as seats, tables and ice buckets.
Our LED Furniture can be
set to various colours

, run in chase and are completely wireless and can last up to 12 hours.

Our colour changing LED furniture hire range (or Glow Furniture) is ideal for "chill out" areas. Perfect for giving your event that "wow" factor, our furniture gives out a surprising amount of ambient light and can be set to various colours, synced to the same colour or even run in various chase and fade modes.

These units are completely wireless and can last up to 12 hours between charges. Remotes can be provided if you wish to change colours/scenes or buttons on the base of the unit can also be used. Our LED hire furniture is also IP65 rated.

The LED cubes and ice buckets are also lightweight so allow for them to be picked up and moved where required during the event.

Our range of furniture can be set to various colours such as red, blue, white, orange, purple and pink which can fit into a wide range of theme ideas such as "Fire and ice", "American" and "Disney" to name just a few we've worked on.
These tables while being
great to look at

, are also hard wearing and totally wireless!

Our LED Poseur Tables combined with our range of other LED furniture products are a great way to provide that "wow" or "OMG" factor to your event. These products are fairly new to the market so our clients are always receiving positive comments from their guests.The LED Poseur Tables, whilst being great to look at, are also hard wearing and totally wireless. This makes them perfect to locate near your dancefloor (particularly useful for when you have a no drinks on the dancefloor policy which is common with LED floors).

Being wireless, lightweight and well made means these poseur tables are also ideal for outdoor areas. This means not only do they provide a light source without the need for any cables or wires but also a suitable surface for guests to place their drinks, food etc.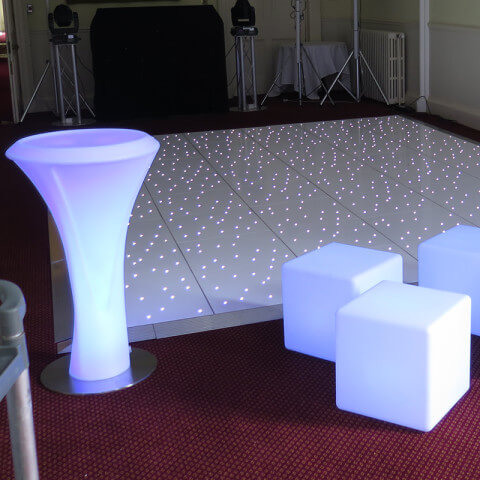 Looking for an
interesting centrepiece

for your table?

Why not consider our LED ice buckets which are perfect for keeping your drinks cold. These can run for up to nine hours on a full charge which means you can have ambient light on your tables without the need for any wires. If used for longer periods then with the use of mains cables they can run for much longer periods. These buckets are IP65 rated so can be used outdoors if required.

These buckets can be provided in various sizes so if you need buckets to hold only a couple of champagne bottles, or vast amounts of beer we can provide the right size for your needs.

Prior to any hire we clean and fully charge our stock and when required will run through how they operate with you or a chosen member of your staff, party etc.
Our acrylic
LED Cube furniture 

is a perfect lightweight seating solution

These LED Cube seats are not only easy to relocate but also totally wireless while providing that real "wow" effect for your event.

We have provided these cubes for various different events from classy weddings to mobile nightclub events. These light cubes can be set to various colours or even left on a slow fade so if you have a strong colour theme then these can be provided to fit in with that.

These illuminated cubes are also IP65 rated which means you can even use them outside, or without having to worry about placement or tripping due to wires, as they're fully battery powered which last up to 10 hours!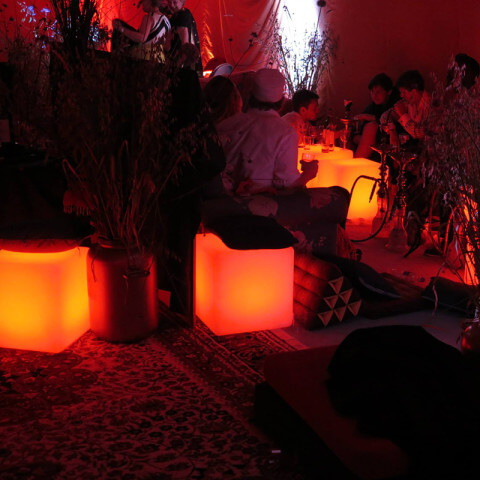 Sound good so far?
Book an appointment today to find out more information about our Events and Services